Cycle of materials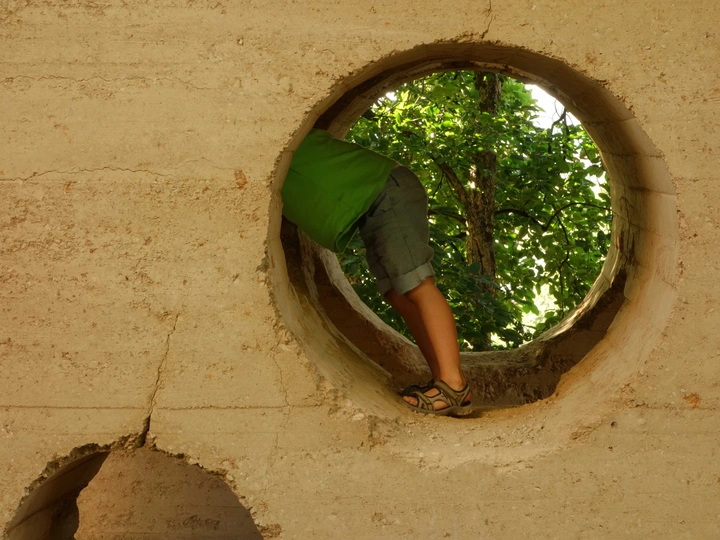 Organizing the existing logistics around earth excavations and demolitions in order to re-use on a ephemeral rammed earth playground on public space.
---
Links
Team members
Tiago Lopes
Joana Marques
Luis Seixas
Nuno Vasconcelos
Field of work
Architecture, Design, Ecology, Visual Art, Research
Project category
Material tracking and reuse
Project submitted
2023
I´m Nuno Vasconcelos, a Portuguese freelancer architect working on logistics and research to implement projects and ideas around sustainable materials, specially excavations and aggregates from demolitions to be used on raw earth construction.
With this ideals, I founded DOING.pt, a concept to answer the need of creating practical work (research, logistics and production) that result mainly on interventions with an educational, social and ecological conscience.
---
The idea was to create a ephemeral intervention on public space, to bring awareness about the importance to re-thinking the cycle of materials used on construction, and the need to deal with all the waste associated to the end of life of a architectural construction.
To create this awareness, the proposal targeted younger people and children, being used although by adults as well. During almost two weeks, a rammed earth playground was installed to be used. At same time, daily workshops for schools, took place, creating with the students small sculptures using exactly the same process of earth mixing and rammed earth building, talking at same time about sustainability on the construction, natural resources and the cycle of materials.
First step was to identify places and companies working with excavations and demolitions in the city, and identify at same time, the places where those materials where taken to be dumped. This network is essencial to have those materials available when they are needed, and to reformulate the existing logistics and equipments used by those companies in order to solve a problem around the lack of prepared material to be used on raw earth construction. After this process, the construction of the sculptural rammed earth playground took place on the public space, being documented.
After the conclusion, the sculpture could be used by children and adults, giving for majority of the users the first contact to this construction technics.
This project was a starting point on DOING.pt ideology, to looks at excavations and demolitions in the cities, not as a waste, but as a valuable resource for raw earth construction. Avoiding this way those materials to be dumped into old quarries or land fields. At same time, allowing to be re-used again in the construction without the need of industrial transformation. This technics and raw materials contribute to reduce the embodied energy associated to the construction itself.
Fellow