POOL PROBLEM or Reclaiming a Public Campus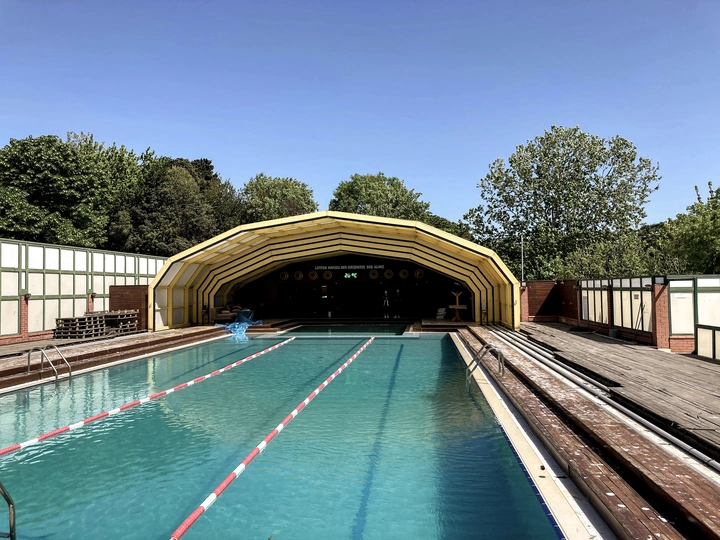 Reclaiming a privatized campus and transforming it into a public space without demolishing the existing structures
---
Links
Team members
sevince bayrak
oral goktas
eylem yilmaz kumru
Field of work
Architecture, Urban planning, Research
Project category
Renovation
Project submitted
2022
Founded in 2007 by Sevince Bayrak and Oral Goktas, SO? is a studio focusing on design, architecture, and urbanism. In 2013, they won the Young Architects Program by MoMA/PS1, creating Sky Spotting Stop for Istanbul Modern. In 2015, they won the invited competition at the Royal Academy of Arts; their project Unexpected Hill was realized in London. After that, their installation Lost Barrier was mounted in Rome and acquired by MAXXI for the permanent architecture collection.
---
This project addresses the rapid privatization of public spaces and aims to reclaim them as public venues. Istanbul had an economic boom between 2008-2013 which primarily affected the construction industry. Florya City Forest, which was opened in the early 40s, was one of those public spaces occupied by the previous mayors of the districts of Istanbul for private residential use. When the new mayor of Istanbul was elected in 2019, his team transformed the whole area into a public campus by re-functioning the existing buildings with public programs. The private villas became the communal working spaces for the public institutes of the municipality, IPA. However, the campus lacked public halls essential for its new users. Moreover, the campus design was not ecologically sustainable, with its asphalt roads, car-centric layout, and inaccessible places. There were two abandoned warehouses that were used as construction workshops and a swimming pool, formerly constructed as a private area for the residential units. While the best choice seemed to demolish the pool since it would not be efficient and sustainable to keep it, warehouses were obsolescent. We proposed to transform these three buildings into the new venues required.
The main principle of our design was to reclaim a public hall without new construction. In addition, the idea was to re-function the building with minimum intervention considering time and budget. Therefore the original covering structure, pool tiles, and wall coverings were kept as they were.
The pool is now used as an open-air event space in summer, while it becomes an auditorium for 400 people in winter since the covering structure wraps the building in bad weather conditions. The hangars are used as public workshops and exhibition and activity halls.
Rather than designing elegant buildings from scratch, we renovated the campus with an energy-efficient and economical approach.
Related events