MAY YOUR RICE NEVER BURN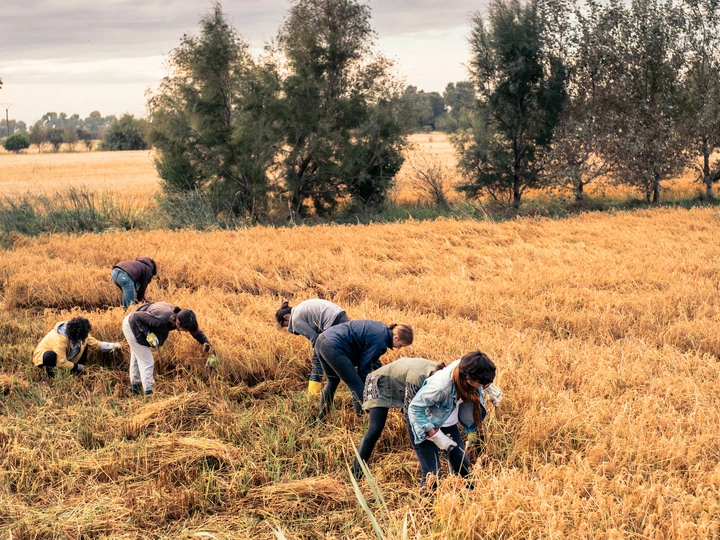 waste, resources, rice straw, crafts, cyclical care, dunes, citizen participation
---
Estelle Jullian
Arles, France
Links
Team members
Silvia Caballero
Matthieu Menard
Emily Nirlo
Maria Vidagañ
Henriette Waal
Field of work
Landscape architecture, Ecology, Research
Project category
Material tracking and reuse
Project submitted
2022
Estelle Jullian is a French architect based in Valencia (Spain). His practice addresses different fields such as architecture, urban and rural territory, ecology, art, and participation.
Balikypopoy is a collective created in 2011 by Maria Vidagañ and Silvia Caballero. Both esparto artists and artisans. In addition to working with vegetable fibers, they are also dedicated to the field of education and experimental art.
---
Rice is the most important foodstuff for much of the world's population. The rice agricultural waste however represents a major environmental challenge. Leftover rice straw is often burned which causes serious air pollution. For the May Your Rice Never Burn project by Atelier Luma and Estelle Julian, Maria Vidagañ, Silvia Caballero, with Henriette Waal as artistic leader, sought a way to use this leftover matter as a raw material for something new: a construction material for reinforcing dunes and coastal areas in Camargue, a wetland in the south of France where lots of rice is grown.
The project not only combats air pollution and soil degradation but also supports the local craft of weaving. Weavers share their knowledge of braiding and weaving through workshops with residents and others from the area. The introduction of this new ritual, from burning straw to reinforcing dikes, involves a new generation in protecting this vulnerable landscape. The project stimulates the circular economy and brings together environmental organizations, scientists, farmers, weavers and other regional players.
Related events