MYKO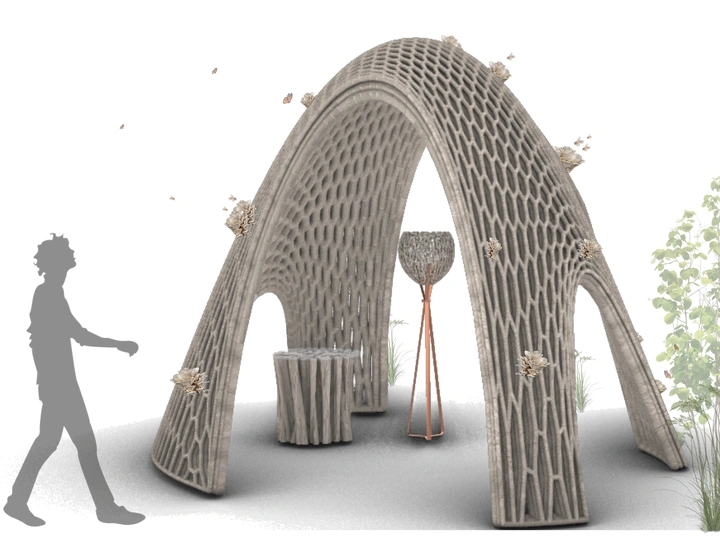 MYKO for Transforming the Living
---
Aswini Balashanmugam
Eindhoven, Netherlands
Links
Team members
Aswini Balashanmugam
Field of work
Architecture, Design, Ecology, Curating, Research
Project category
Material tracking and reuse
Project submitted
2023
I am a passionate and creative Architect, and aspiring Bio Designer who finds true potential in Mycelium and Bio-based research and applications. Inquisitive, open-minded and an ambitious person with a strong motive to explore and learn new areas to understand the overlaps & integrate holistically in an interdisciplinary collaborative approach to strive towards creating a Sustainable Design Model throughout the life cycle in a cradle-to-cradle approach. I hold a strong connection to design from a material and energy perspective which I believe are key components that help us understand the environmental behavior and translate the appropriate information in creating circular sustainable design alternatives to establish a symbiotic relationship with the environment to live in synergy with nature.
I started to work with Mycelium bio composite materials during my master thesis project "Mycelbiosis- Living in Synergy with other Species" to design co-existing spaces for humans and bees establishing mutual symbiosis by keeping the mycelium alive. Since then, based on my previous understanding and knowledge on the properties and behavior of mycelium composites, I have been on a constant exploration and self-paced research on Mycelium through speculative design and visualization and see a valuable potential in application across the design industry and the built environment ranging from lifestyle products to shelters including applications towards passive house designs.
I envision the future architecture would foster change to enable humans to live in synergy with nature than against it like the current scenario by breaking the human dominant approach. As an Architect, not only design for what the client desires, but what the place deserves, for it to blend with the environment to function in synergy with nature, for a holistic symbiosis across all life on earth. Well, we are humans, a part of the Sum, The Universe!
---
MYKO, a research-by-design sustainable initiative platform focus on application of mycelium composites in architectural design to realize habitable spaces and artefacts to support and enhance the longevity of life on earth by eradicating factors causing climate change and environmental degradation. Research on mycelium composites as part of my master thesis "Mycelbiosis-Living in Synergy with Other Species" sets base for this novel approach. Experimental research outcomes of thesis are analyzed & reflected to holistically evolve design process. MYKO promotes & works for shift towards co-existence to live in synergy with nature, where species live in mutual symbiosis offering new life and hope for generations now and beyond! MYKO#Shell, monolithic compression only mycelium shell structures designed by growing mycelium on woven ropes whose geometry is defined by gravity & strengthened by merging layers similar to Paper Mache. By co-creating with nature to design nature inclusive structures that preserve biodiversity and reverse climate change throughout its life cycle, the project offers valuable ecosystem services which breaks the human centered design to a nature centered and nature inclusive design. Right from offering a shelter space to humans to acting as a habitat for bees and other species, this monolithic structure offers vital ecosystem services throughout its lifecycle, where the structure decomposes to new plant life supporting biodiversity and pollination which effectively maintains a balanced ecosystem. MYKO#Shell stands as a symbolic structure showcasing the possibility of co-creating with nature through gravity with mycelium not only as an effective binding agent between the layers but among all the species including humans to live in synergy with nature.