Building transparency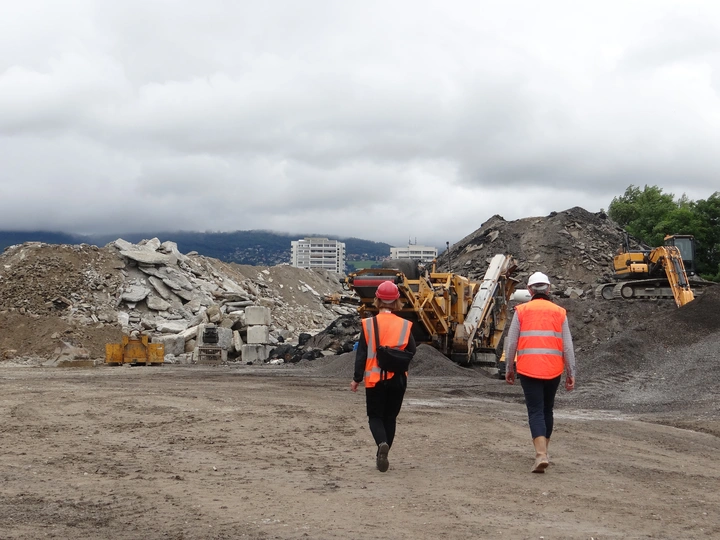 What if we were to apply all the mechanisms of food transparency to our built surroundings ?
---
Links
Team members
Jade Apack
Perrine Cariou
Lost&Find Collective
Valentine Letellier
Estelle Roussel
Lauriane Touvron
Léa Uguen
Field of work
Architecture, Ecology, Research
Project category
Raising awareness
Project submitted
2023
Jade Apack is a french architect and independent researcher. She has cultivated a polymorphous practice, seamlessly transitioning between constructive, reflective, and artistic processes that mutually enrich each other. Her works revolves around the notion of "building transparency", an allegory of food transparency applied to the construction sector. More broadly, she is interested in the notion of "transparency" in the way we act and build societies.
After graduated from ENSA Nantes in 2019, Jade co-founded Lost&Find, an association uniting six young practitioners in the field of architecture. Through this platform, they actively involve citizens in territorial planning processes. In this direction, they regularly coordinate consultation missions between Switzerland and Bretagne, establishing recommendations for territorial development, articulating political, cultural and citizen wills. Their work has been showcased at various events such as the "Architecture Manifeste" exhibition at ENSA Rennes in 2022, or at the "Explore" urban planning festival at the Pavillon Sicli in Geneva in 2021.
Parallel to her collective endeavors, Jade's curiosity drives her to explore various practices that enrich her understanding of the living environment. She actively collaborates with students at EASA, an assembly spanning across Europe that offers alternative learning experiences through architecture and art workshops. Moreover, Jade remains closely connected to the construction world, working as an architect and construction site manager for numerous projects, primarily focusing on renovations. Additionally, she dedicates time to enhance her skills and knowledge in areas close to her heart, participating in research and experimentation, often through collective artistic projects or residencies. For instance, Jade will be part of the program "Experiment in Political Arts" in the upcoming year, taught at SciencePo Paris, an initiative introduced by Bruno Latour.
---
Amidst the increasing scrutiny of the contents of our plates, where food transparency has become a pressing social issue, a parallel concern remains largely unknown - the composition, origins, management, and stakeholders of our built environments. Referred to as "building transparency," this generic term encompasses various issues stemming from the same observation: the city's manufacturing processes - its recipes, cooks, and tenants - remain opaque to its primary consumers - the citizens. What if we were to apply all the mechanisms of food transparency to our built surroundings ?
My work delves into this notion, aiming to illuminate the opaque areas, unravel complexities, and conduct analysis, synthesis, and critiques. Using activism as inspiration, my research take diverse forms, including interventions in public spaces, workshops, and lectures, with the goal of reaching a broad audience. Currently, my inquiry and interests revolve around four interrelated areas spanning architecture, economics, and politics: transparency in architectural procedures, transparency in resources usage, transparency in economic, programmatic, and administrative arrangements, and transparency in the indicators of transparency itself.
I explore the notion of transparency through a transdisciplinary lens, drawing from art, social science, politics, and philosophy. I contemplate how transparency can serve as a commitment and an act of political activism. What forms of action can arise from these considerations in participatory, political, and artistic domains? How can we target diverse audiences and shift perspectives? What legislative tools can we leverage? How do we progress from awareness to action, and eventually, from action to establishing norms? These fundamental questions shape my explorations and ambitions as I seek to contribute to a more transparent and inclusive built environment.
Fellow