A report from Krvavica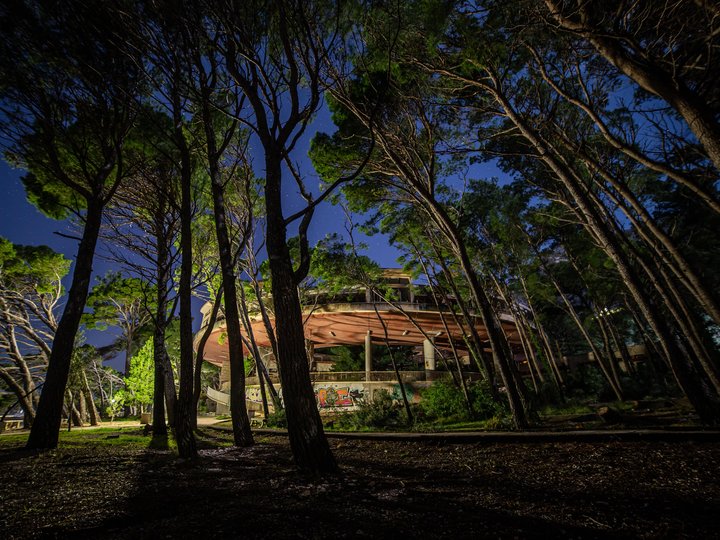 17 April 2023
---
The DAI-SAI From care to cure and back explores critical architectural heritage, depletion of human communities in relation to abandoned architecture, and encourages transformation of both material and immaterial environments from "spaces of a common disease" into places of "common healing".
Through the medium of film, LINA fellows Rebeka Bratož Gornik and Joaquin Mora, together with the cinematographer Matija Kralj Štefanić and curator and architect Ana Dana Beroš, started the investigations and documentation of The Children's Maritime Health Resort of Military Insured Persons, an architectural masterpiece built in 1965 near Makarska, Croatia.
The existing scientific and community knowledge on the building is implemented with the experimental practice of documenting and transmedial storytelling, the emphasis being put on redefining identity, collectivity, performativity and materiality.
Rebeka Bratož Gornik's short film "The mystery work/world of Rikard Marasović" (working title) deals with the enigmatic Croatian architect Rikard Marasović, the author of the building, in which the narration is created from contemporary interviews with architects researchers, local historian and community, while his character is played by a prominent local actor. The narration of the architect presents and questions the position of authority in describing the past, present and possible future state of the building, as well as the communities around it.
"Sound Identity" by Joaquín Mora aims at manifold interpretations of architectural space that are at the basis of what we could call the sound identity of a place. The author investigates, documents and redefines relationships between contemporary subjects and sounds of the former Children's Maritime Health Resort. The video is composed in layers, from the sound and visual recordings of the building in its current state - empty and abandoned, to the confrontation of sounds in movement/singing choreography with members of the local female choir Tempet.
Their imagination of sociality and spatiality through the medium of film contributes to more sustainable architectural practices, local communities, and the creation of a possible new collectivity that might govern the modernist architectural masterpiece in the future, by transformation of all symptoms of "architecture's illness" – with great affection and empathy.
interviewees:
Miranda Veljačić, architect researcher from Split, Croatia
Stevan Rodić, architect from Novi Sad, Serbia
Rajko Jurišić, local historian, Baška Voda, Croatia
Ineska Paić, former receptionist, Makarska, Croatia
with thanks to:
Dino Beroš, Krvavica, Croatia
Folklore Ansamble Tempet, Makarska, Croatia
Lovrenco Laušić, local actor, Krvavica, Croatia
Bojan Divić, voice-over, Krvavica
mART, Makarska
Intermundia, Zagreb
Related fellows
Related projects
Related events